China's Startup Incubators:
The business world is notoriously known to be a vicious place. It is a world that is highly competitive, where players can be fiercely protective of their domain and are unafraid to adopt "dog-eat-dog" tactics to survive. In this environment, young startups are usually left to fender the big wolves for themselves or otherwise shrivel up and fade away. Enter business incubators, a concept born in the US in the late 1950s which essentially serves to give smaller newcomers a chance to grow and shine. Ranging from mentorship and investments, to providing primary resources and services for startups, incubators are organizations that seek to help startups attain their initial footing in the business world.
Startup incubators have experienced a renaissance of sorts since 2011, with the global trend of entrepreneurship and innovation taking off amidst the sea of failing economies. China too, has seen a dramatic rise in such incubators as the country's new Five Year Plan places unprecedented emphasis on innovation-driven growth.
Since establishing its first ever technology incubator back in 1987, the number of domestic incubators in China has experienced rapid growth backed by government funding. In the decade from 2005 to 2015 alone, incubators throughout the country have risen from roughly 500 in number to over 2000- a figure that is furthermore projected to double by 2020. Among these numerous incubators, leading examples include UrWork, KrSpace, 3W Coffee and IngDan. What makes these particular hubs stand out is that each has chosen a strikingly different business model with which to operate under the startup incubator umbrella. As such, they make fascinating case studies that can be used to better understand this rapidly growing market in China.
---
Perhaps one of China's most recognizable incubators is UrWork, a coworking space that has expanded at meteoric speed throughout the country since its formation only a year and a half ago. Today, the company boasts around 10,000 workers and houses roughly 3000 various-stage startups throughout their dozens of branches. As a coworking space, UrWork considers itself to be a united community rather than a collection of individual businesses working under one roof. While each startup rents its own space within the premises and has individual access to investors, training programs and services, what truly makes UrWork tick is that it is a self-serving ecosystem. As such, each small business enjoys direct contact with the goods and services provided by the other startups around them. With companies ranging in all fields, employees can benefit from each other in numerous ways, be it either professionally or through leisure. The coworking model enables new startups with limited funds to barter complementary services, or otherwise enjoy recreational communal activities led by their fellows. Hence, one might find a VR (Virtual Reality) startup offering free playing stations for other UrWork members to enjoy. These kind of crossover mingles are a win-win situation that both bond fellow entrepreneurs while simultaneously increasing each startup-brand's visibility.
With a valuation that already exceeds 5 billion RMB, UrWork's future seems bright and promising. Ma Daqing, the company's CEO, recently stated "Guided by the concept of the sharing economy, UrWork will incubate 10,000 startups in the next decade and help them become stronger". What perhaps makes this business model so revolutionary is that at the stage when they are most fragile and vulnerable to idea-stealing, coworking spaces have replaced rivalry with cooperation and trust. This has in turn created a virtually whole new approach to business in which would-be competitors turn into team members, all rooting for and supporting the success of their peers. There is perhaps nothing more fitting for China's socialist market economy than such a business model.
Another incubating space that has experienced fast success since its establishment in 2010 is 36Kr or KrSpace. Whilst also an open space incubator, KrSpace's business model is more of an extended training program for up-and-coming new startups. The company originated as a tech new media website entitled 36Kr.com (channeling Superman and the periodic table name for Krypton) which featured exclusive articles about high-tech products and companies. Once the blog began amassing a readership, the company shifted its focus to China's startup market and transitioned into an O2O (Online to Offline) operational model. The first offices were opened in Beijing's Innoway street in Zhongguancun, dubbed China's very own "Silicon Valley", which houses numerous other startups and incubators. Rebranded as KrSpace in October 2014, the company claims to have accepted about 5000 project applications and has incubated dozens of startup companies in its Beijing branch alone. KrSpace differs from other incubating models, such as UrWork, in that it doesn't house startups for unlimited amounts of time. Instead, every three months a new batch of the most qualified and potentially successful startups are hand-picked to undergo the incubator's rigorous training program. Accompanying services the selected startups pay for include tailored lectures in different fields, private managerial consultation classes, and exclusive access to high-end workstations. At the end of the 3 months, each startup batch of roughly 30 firms graduates and joins 36Kr's database site as an official member. Today, the site registers a staggering 18 million readers, proving to be a vital source of exposure for the program's alumni startups. Furthermore, as KrSpace conducts due diligence on all its accepted startups, its businesses are also more easily able to attract investments from leading players in their fields.
3W Coffee is another incubator making rounds in a unique way around China's largest metropoles. Seemingly a trendy coffee shop to the unsuspecting passerby, it is in fact an internet-based coworking space. Founded in Beijing's Innoway in October 2011, it is the product of a successful crowdfunding campaign that attracted over 180 seed stage investors and later commerce giant JD.com. The idea behind the creative business model was to create a comfortable working space where business meetings could be conducted over every entrepreneurs' primary power drink—coffee. Today, the 3W cafes attract both angel investors and entrepreneurs, and has birthed many a joint-partnerships. The café's innovative layout encourages mingling and open discussion, with long tables that are open to all instead of private isolated seating. Public workshops are also frequent in the premises, enabling even just passing creative-thinkers to gain vital business knowledge. Since its founding, 3W Coffee has also transitioned into a more official model of an incubator space, formally taking in 14 startup projects and additionally helping more than 17 entrepreneurial teams get their angel investments. The company's CEO, Xu Dandan, spoke in an interview about his vision behind the coworking café idea, saying "This may sound silly – to be simple-minded – but being simple and kind can move people to help you or even join you".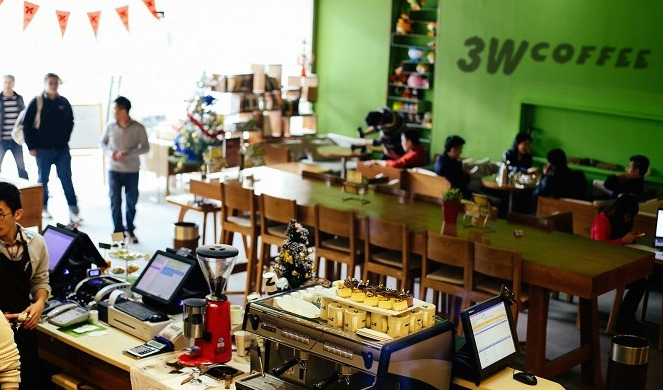 This may sound silly – to be simple-minded – but being simple and kind can move people to help you or even join you."–Xu Dandan, 3W Coffee CEO
The final prominent startup incubator model is IngDan, a project facilitator specializing in IoT (Internet of Things) products. IngDan is an atypical incubator in the sense that it does not physically house startups on the company premises. Rather, it is essentially a supply chain center that provides O2O services for IoT startups, linking entrepreneurs to the right suppliers and supporting them throughout their growth journey. The company has already successfully facilitated over 4000 IoT projects and has built a vast supplier network of over 3500 suppliers since its launch in 2013. In addition, IngDan exposes these innovative projects to the public via their IngDan Experience Centers, located in global innovation capitals such as Beijing's Zhongguancun, Shenzhen, and Tel Aviv, Israel. These experience centers showcase the goods made by the startups on Ingdan's roster, allowing visitors to try out anything from a glucose monitor smart-phone app, to an IoT cup that measures and records daily water intake. Each product on display comes with a QR code that users can scan to learn more about the projects or otherwise relay further inquiries to the startups. IngDan's CEO, Jeffrey Kang, recently expressed his vision for the company, saying "To enable an everyday normal young entrepreneur to enjoy the resources held only by large companies, [that] is the idea of IngDan. To allow them to make mistakes at a low cost is the biggest help that can be given to young entrepreneurs".
.
Ultimately, the bustling startup scene in China means that incubators have become a very profitable market. The case studies mentioned here are only a drop in this growing sea. Each of these companies offer their own twist and business model with which they operate, but one common quality unites them all– they all give an opportunity to the small businesses that otherwise would stand a very slim chance of succeeding amidst the jungle of powerful monopolistic corporations. With that being said, it is important to note that being admitted to a startup incubator is not a guarantee for success, nor is it a guarantee of a sound investment. But still, in the wild and competitive business world, this new trend provides a fresh dynamic for the average young dreamer or hopeful entrepreneur to have their ideas finally be heard and their businesses realized.